A BRIEF DESCRIPTION ABOUT YOGA AT GYAN YOG BREATH
Gyan Yog Breath is a unique and peaceful yoga ashram in India that offers Yoga Alliance registered 200, 300 & 500 Hour Yoga Teacher Training Courses.
Since being founded in 2008, the non-profit organization located in the World Capital of Yoga: Rishikesh. Surrounded by Himalayan mountains, Gyan Yog Breath provides an optimum space for a professional, residential Yoga Teacher Training.
There many yoga schools and programs to choose from, however, it is the familiar, Indian-Western approach that attracts students from all over the world to Gyan Yog Breath.
The team consists of 10 firmly qualified and experienced practitioners, masters of yoga and PhDs who have been teaching the ancient wisdom of yoga for more than a decade. All yoga teacher training courses conducted at Gyan Yog Breath aim to increase the student's awareness and knowledge about holistic living, Yoga, Meditation & Ayurveda.
Swami Bipin Gyan Ji is the founder and heart of the school. His strength lies in conveying clear and simple teachings that can be easily understood and applied into modern life. He invented the Emotional Blockage ® Treatment and Power of Transformation Meditation; both healing techniques are exclusively taught at Gyan Yog Breath.
WHAT MAKES US SPECIAL
We are the only school worldwide that offers an optional Emotional Blockage ® Treatment Course along with a Yoga Teacher Training
We teach the breathing technique Power of Transformation Meditation that was invented by Swami Bipin Gyan during his years in silence
Our management and teachers are multi-lingual: You get to message and speak in English, German, French, Spanish& Hindi for better understanding
We help you to gain a clear vision, willpower and a balancing personality
Our teachers provide you with great tools for teaching and growing yourself, individually and strong
After completing your course, you are welcome to stay in touch with us. We are happy to help you in obtaining a career by writing a reference statement and answer your questions
Most of our students love to visit us again after their Yoga Teacher Training; many of them decide to do another continuing course with us as they feel very satisfied and happy.
Our yoga school has a partnership with Pankh -the Creativity School for Slum Children in Rishikesh. Our Yoga Teacher Training students enjoy holding free yoga workshops for these kids. It's a great opportunity to dive into real karma yoga.
We teach the traditional wisdom of yoga, yet we are contemporary in our vision and communication
Knowing about Western teaching approaches, we have created interactive and diverse classes that will challenge you and give you the perfect mix between East and West
200 Hour Yoga Teacher Training
Yoga has already started to change your life?
Do you want to deepen your knowledge and understanding of yoga and spirituality? You want to pass your passion on to others?
Then, follow your heart and become an internationally certified yoga instructor. During our Yoga Alliance registered200 Hour Yoga Teacher Training, you will learn how to practice and teach Hatha Yoga, Meditation, Pranayama and Shatkarma.
We aim to individually guide you along your way and encourage you to become a confident and joyful yoga instructor.
Our yoga teacher staff are true masters, both exemplifying and corrective.
Our yoga teacher training classes are small and intimate so you will get plenty of individual attention.
We have a broad variety of training materials such as blocks, pillows, yoga straps and bolsters to ensure the optimum adjustment for you and provide a safe practice.
Hatha Yoga is the foundation of all modern yoga. As we focus on this traditional style, we not only help you improve correct asanas, teaching the hows and whys of postures and counter-postures but also show you how to incorporate Hatha yoga into modern types& variations such as Ashtanga.
During the Yoga TTC, you will also cover yoga philosophy, yoga anatomy, yoga adjustment & yogic nutrition& Ayurveda.
Even if you don't intend to teach yoga straight away, this Yoga Teacher Training will give you some eye-opening insights. Let your inner light shine bright!
300 Hour Yoga Teacher Training
Our 300 Hour Teacher Training is for yogis and yoginis who have completed a foundation RYS 200 Hour Yoga Teacher Training before.
During the course you will be able to advance your practice, build confidence and receive new ideas on how to adjust and align as a practitioner and teacher.
Re-connect with your authentic Self and listen to your inner voice!
After completion, you can register as an RYT 500 with Yoga Alliance.
The 300 hour Yoga TTC is a 25-day intensive program that requires discipline, open-mindedness and patience.
It is designed to strengthen the already existing knowledge a student or teacher may have about the foundation of Yoga.
This course is going to help both intermediate and advanced level students to engage in a professional and personal investigation into the richly transformative powers of yoga, in their body, mind, and soul.
During the Yoga Teacher Training program, we focus a lot on alignment and adjustment, as we believe that only if the pose is adjusted correctly, the maximum benefit will be reached.
Our yoga teachers are corrective, knowledgeable and precise. They interact with our students patiently and always aim to focus on the individual's need and condition.
Aspiring teachers will also learn everything about the use of props such as belts, bolsters, and straps for guiding students at the different levels of practice. This will help the students to develop a better understanding of each of the poses.
500 Hour Yoga Teacher Training
Have you been practising yoga for at least 2 years now?
Do you want to become a professional yoga instructor and create a strong base to teach your passion to others?
Our 500 Hour Yoga Teacher Training provides the necessary foundation for a career as a yoga teacher.
It is an intensive  55-day course that covers all aspects of asana, meditation, pranayama, yoga philosophy, anatomy, and alignment.
During the 500 Hour Yoga TTC you will learn what it means to be a creative and inspiring yoga teacher.
The focus will be on hatha asana, alignment and applying Yogic Philosophy into modern life.
After successfully graduating from this Yoga Teacher Training, you will receive a Yoga Alliance certification that allows you to teach yoga internationally. You can then register as an RYT 500.
In some European countries like Germany, you can even work in co-operation with large health insurance companies to maximize your customer number.
Our 500 Hour Yoga Teacher Training requires a lot of mental and physical strength and willpower. Make sure to practise yoga regularly prior course begins.
Yoga Retreat for Beginner
Are you a beginner in yoga? Do you want to take some time off and explore the various aspects of traditional hatha yoga?
Gyan Yog Breath in Rishikesh provides a satisfying course content and peaceful location for your yoga holiday.
Learn all about correct poses, nutrition and yoga philosophy  in a safe and comfortable environment.
We invite you to join our 14-Day Yoga Retreat for beginners!
What Our Student Said About Our Course
Our Upcoming Classes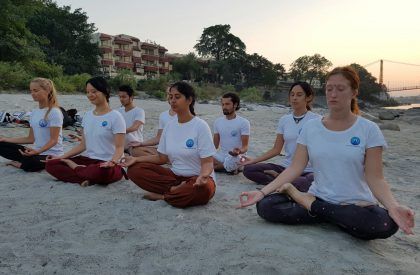 01 August, Wednesday - 05:00 am - 08:00 pm
Gyan Yog Breath
01 August, Wednesday - 06:00 am - 05:00 pm
Gyan Yog Breath
01 August, Wednesday - 06:00 am - 05:00 pm
Gyan Yog Breath