A BRIEF DESCRIPTION ABOUT YOGA AT GYAN YOG BREATH
Gyan Yog Breath is a unique yoga school in India that offers Yoga Alliance registered 200, 300 & 500 Hour Yoga Teacher Training Courses.
Since being founded in 2008, it's located in the World Capital of Yoga: Rishikesh. Surrounded by Himalayan mountains, Gyan Yog Breath provides an optimum space for a professional, residential Yoga Teacher Training.
There many yoga schools and programs to chose from, however, it is the familiar, Indian-Western approach that attracts students from all over the world to Gyan Yog Breath
WHAT MAKES US SPECIAL
We are the only school worldwide that offers an optional "Emotional Blockage Treatment" Course along with a Yoga Teacher Training
We teach the breathing technique "Power of Transformation" that was invented by Swami Bipin Gyan during his years in silence
Our management and teachers are multi-lingual: You get to message and speak in English, German, French & Hindi for better understanding
We help you to gain a clear vision, willpower and a balancing personality
Our teachers provide you with great tools for teaching and growing yourself, individually and strong
After completing your course, you are welcome to stay in touch with us. We are happy to help you in obtaining a career by writing a reference statement and answer your questions
200 Hour Yoga Teacher Training
Yoga has already started to change your life?
Do you want to deepen your knowledge and understanding of yoga and spirituality? You want to pass your passion on to others?
Then, follow your heart and become an internationally certified yoga instructor. During our Yoga Alliance registered 200 Hour Yoga Teacher Training, you will learn how to practice and teach Hatha Yoga, Meditation, Pranayama and Shatkarma.
We aim to individually guide you along your way and encourage you to become a confident and joyful yoga instructor.
Our yoga teacher staff are true masters, both exemplifying and corrective.
Our yoga teacher training classes are small and intimate so you will get plenty of individual attention.
We have a broad variety of training materials such as blocks, pillows, yoga straps and bolsters to ensure the optimum adjustment for you and provide a safe practice.
Hatha Yoga is the foundation of all modern yoga. As we focus on this traditional style, we not only help you improve correct asanas, teaching the hows and whys of postures and counter-postures but also show you how to incorporate Hatha yoga into modern types & variations such as Ashtanga.
During the Yoga TTC, you will also cover yoga philosophy, yoga anatomy, yoga adjustment & yogic nutrition.
300 Hour Yoga Teacher Training
Our 300 Hour Teacher Training is for yogis and yoginis who have completed a foundation RYS 200 Hour Yoga Teacher Training before.
During the course you will be able to advance your practice, build confidence and receive new ideas on how to adjust and align as a practitioner and teacher.
Re-connect with your authentic Self and listen to your inner voice!
After completion you can register as a RYT 500 with Yoga Alliance.
The 300 hour Yoga TTC is a 25-day intensive program that requires discipline, open-mindedness and patience.
It is designed to strengthen the already existing knowledge a student or teacher may have about the foundation of Yoga.
This course is going to help both intermediate and advanced level students to engage in professional and personal investigation into the richly transformative powers of yoga, in their body, mind and soul.
During the Yoga TTC program, we focus a lot on alignment and adjustment, as we believe that only if the pose is adjusted correctly, the maximum benefit will be reached.
Our yoga teachers are corrective, knowledgeable and precise. They interact with our students patiently and always aim to focus on the individual's need and condition.
Aspiring teachers will also learn everything about the use of props such as belts, bolsters and straps for guiding students at the different levels of practice. This will help the students to develop a better understanding of each of the poses.
500 Hour Yoga Teacher Training
Have you been practising yoga for at least 2 years now?
Do you want to become a professional yoga intructor and create a strong base to teach your passion to others?
Our 500 Hour Yoga Teacher Training provides the necessary foundation for a career as a yoga teacher.
It is an intense  55-day course that covers all aspects of asana, meditation, pranayama, yoga philosphy, anatomy and alignment.
During the 500 Hour Yoga TTC you will learn what it means to be a good and inspiring yoga teacher.
The focus will be on hatha asana, alignment and applying Yogic Philosophy.
After graduation, you will receive a Yoga Alliance certification that allows you to teach yoga internationally. You can then register as an RYT 500.
In some European countries like Germany, you can even work in co-operation with large health insurance companies to maximize your customer size.
Yoga Retreat for Beginner
Are you a beginner in yoga? Do you want to take some time off and explore the various aspects of traditional hatha yoga?
Gyan Yog Breath in Rishikesh provides a satisfying course content and peaceful location for your yoga holiday.
Learn all about correct poses, nutrition and yoga philosophy  in a safe and comfortable environment.
We invite you to join our 14-Day Yoga Retreat for beginners!
What Our Student Said About Our Course
It was the perfect yoga school in India to get away from everyday life. I could fully concentrate on the knowledge the teachers had to offer, which was a lot of helpful and interesting things. I grew very much in the time spent there, not only as a future yoga teacher but also personally. If you are willing to fully open yourself to India and its ways as well as the yogic lifestyle this yoga school has a great capacity to help you on your way. Besides that, you also get enough time to discover the city itself. I had a great time, thank you!

That journey towards your inner core and true self. A path which isn't always easy to take on your own. Thanks to Gyan Yog Breath I'm definitely further in my journey! Only a few days before the course ends, these past weeks feel like a great ride 🙂 What an inspiring, insightful, transforming experience during my yoga ttc in Rishikesh. It's intense, full on, challenging and very, very rewarding. A safe place to explore yourself deeply. Vipin and Anki are wonderful, lovely people, whatever you need they are there for you. Transformation power meditation with Vipin has taken me to unknown places within myself. While the yoga lessons with Anki are really nice and fun, she inspires you to do your best without feeling pressure to perform. Her classes are about learning and enjoying the flow! The philosophy teacher, is eloquent, knowledgeable, funny, has an endless resource of inspiring, beautiful stories which make theses classes unforgettable! I'm grateful Gyan Yog Breath not only crossed my path but has given me a much clearer idea of what my path is.

I don't know where to start, but to summarise in one word I can only say: love! So much love. I'm doing the 200-hour teacher training. It feels like a family I know since a long long time. These last two weeks are just …MehrI doesn't know where to start, but to summarise in one word I can only say: love! So much love. I'm doing the 200-hour yoga ttc in Rishikesh. It feels like a family I know since a long long time. These last two weeks are just amazing, and luckily there are two more weeks ahead of us. We're learning so much. Not only about yoga and philosophy but also about ourself's. Emotionally it feels like a rollercoaster, with a lot of ups and downs. It is intense but in a good way. Don't let it hold you back! The schedule is quite busy, but there is also enough time and space for some moments for relaxing in the sun. Next week we will start practice teaching yoga, I'm so excited! The team of Gyan Yog Breath is amazing. Vipin and Anki are lovely, they take care of all of us in a really touching and personal way!

It was my first time in India and everything was new, but I really felt at home at the Gyan Yog Breath Yoga School. The people were super nice, the teachers were amazing, the food was home cooked and really fresh. I loved the whole experience, it helped me a lot to achieve my personal goals and peace of mind and I am really thankful to all wonderful people I met at the Gyan Yog Breath School.
Our Upcoming Classes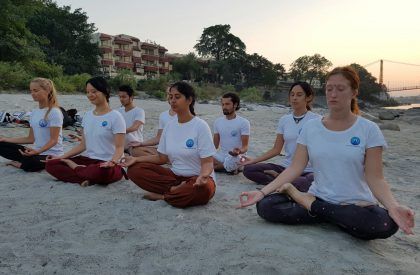 01 December, Friday - 05:00 am - 05:00 pm
Gyan Yog Breath
01 December, Friday - 06:00 am - 05:00 pm
Gyan Yog Breath
01 December, Friday - 06:00 am - 05:00 pm
Gyan Yog Breath