Gyan Yog Breath Yoga Teacher Training
Gyan Yog Breath Yoga Teacher Training
A Yoga Ashram- Learn, Connect, Grow & Inspire
Gyan Yog Breath Yoga Teacher Training
Elevate your yoga practise to the next level & become an
Internationally recognized yoga teacher
Traditional & Transformational Yoga Teacher Training in India
Gyan Yog Breath is a unique and peaceful yoga ashram in Rishikesh, India that offers Yoga Alliance registered 200, 300; 500 Hour Yoga Teacher Training (YTT) in India and Online.
The team consists of 10 firmly qualified and experienced practitioners, Masters of Yoga and PhDs who have been teaching the ancient wisdom of yoga for more than two decades. All yoga teacher training in India conducted at Gyan Yog Breath aim to increase the student's awareness and knowledge about holistic living, Yoga, Meditation & Ayurveda.
Our mission is to guide yoga teacher training students from all over the world and prepare them to become confident and happy individuals who are able to share their knowledge with others.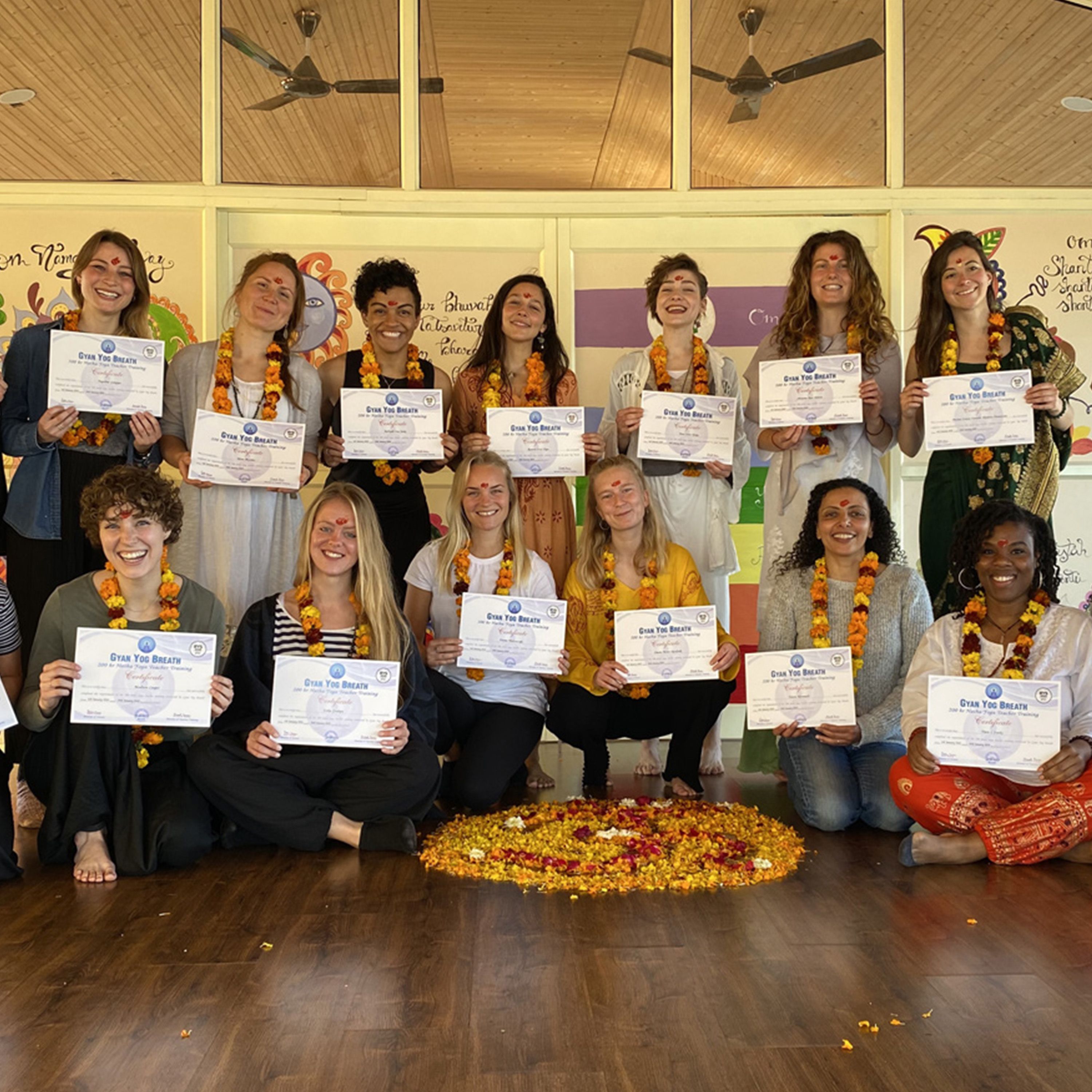 200 Hour Yoga Teacher Training
Take the foundational step in your career as an inspiring yoga teacher. This 200 Hour Yoga Teacher Training will advance your yoga practice and help you to find your unique teaching style. Our graduates leave us as confident and joyful individuals, ready to share their knowledge with others. During the yoga teacher training you will connect with like-minded people and be encouraged to express your authentic Self.
A Yoga Teacher Training is truly a unique experience that will change your life to the better forever. No matter what your original intention is, you can be sure to gain inner balance and learn how to connect your body, mind and soul. Learning to express yourself, knowing your feelings and implementing stability, offers you to live a calmer and happier life according to your unique nature and desires.
300 Hour Yoga Teacher Training
Elevate your teaching skills to the next level and fine-tune your unique expression as a spontaneous yoga instructor. The 300 Hour Yoga Teacher Training at Gyan Yog Breath demands foundational knowledge, discipline, and commitment.
500 HOUR YOGA TEACHER TRAINING
The 500 Hour Yoga Teacher Training at Gyan Yog Breath is an intensive 55-day training that enables you to qualify as RYT-500 Yoga Teacher with Yoga Alliance. Learn all about traditional and therapeutic yoga & Ayurveda.
As international Yoga Teacher Training Centre
EARLY BIRD 399$ DISCOUNT FOR A LIMITED TIME
Feedback from our Yoga Teacher Training students
Ina Hammerbacher
21/11/2021
I made the online Yoga Teacher Course 200h. It was a fantastic experience, allways well guided and fantastic support. Thank you very much!
perfect. the teachers training was really great. i highly recommend. very good teachers and good support. friendly and helpful.
I have just finished my 200h YTT online and I am forever grateful that I have started it in the first place. I have learned and grown so much, it was absolutely worth every minute. The support and guidance from the Gyan Yog Breath Team was brilliant and I am so glad I chose to do my training with them. Can wholeheartedly recommend it.
Julia Pfannenstein
14/07/2021
Einfach Danke! Für diese wundervollen 200 h voller Frieden, Freude und Liebe. Die Ausbildung zur Yogalehrerin war und ist für mich extrem bereichernd und ich danke euch von Herzen für dieses wundervolle Erleben 🙏🏼
I did the 200h and also 300h Yoga teacher training with Gyan Yog Breath online. It was a great and inspiring experience. I learned many many things during this teacher training. All the teachers are really kind and have a big knowledge about yoga and also Ayurveda. The teacher training was greatly organized and you could write them any time and ask them as many questions as you wanted. I can only recommend it. Best experience. It changed a lot in and also for me.
Almost finished my online 200hour yoga teacher training with Gyan Yog Breath and it had been really amazing. The standard of teaching is very high and all teachers are lovely and approachable with any questions you have. I have learned so much and deepened my practice with yoga on a personal and spiritual level. Highly recommend picking Gyan Yog Breath for you Yoga Teacher Training ❤
Helene Roselstorfer
22/01/2021
Das Online-Training von Gyan Yog Breath war exzellent. Ich werde gerne wieder einmal einen Kurs belegen!
Sabina Tsapaeva
21/07/2020
Ich mache gerade meine 300+ Yogalehrer-Ausbildung bei Gyan Yog Breath School und bin absolut begeistert. Diese Ausbildung ist wie für mich gemacht! Ich lerne so viel Neues und frische auf eine entspannte Art und Weise das auf, was ich schon mal gelernt habe. Die Lehrer verfügen über profunde Kenntnisse und wissen es auch, diese zu vermitteln. Ich freue mich jetzt schon auf die Abschlussprüfungen, denn jegliche Angst wurde mir durch die gute Vorbereitung und tolle Betreuung genommen. Ich empfehle Gyan Yog Breath School uneingeschränkt!
I chose Gyan yog Breath because of the great reviews and unique approach to teach traditional yoga. the training was even better than expected. excellent course books, individual guidance daily and amazing teachers. I hope to visit India in person next year and continue my studies here.
My online course was personally a very significant experience. Philosophy, Meditation and all the subjects learnt have generated a positive change on me. Professors Dr. Kumar and Vipin, both wonderful people for all the knowledges shared and kindness. I am very happy to have taken the course. Truly a wonderful opportunity to learn. Highly recommended!
FAQs - Yoga Teacher Training Rishikesh
Most frequent questions and answers
How Can I Reserve my Spot?
You can reserve your spot by following the link below:
Once we receive your registration form and confirmation payment of 200 USD, you will receive your booking confirmation with all details.